Used Cranes for Sale
---
Looking to augment your fleet with a used crane truck? Truck Site has a number of options at various price points. We sourced all units in our used inventory from government agencies, primarily in California. That's why we call our trucks California Clean® — they haven't been exposed to road salt or other harsh conditions, making them less prone to premature rusting than machinery used elsewhere in the country.
Read on for more information about the used crane trucks for sale from Truck Site.
Types of Crane Truck
Cranes are some of the most widely used heavy equipment in the world. They can be found on construction sites, at shipping facilities and in many other environments. Truck Site specializes in mobile cranes which, as the name implies, are designed to be transported easily from job to job. Some of the mobile cranes available for sale from Truck Site include:
Crane trucks: Crane trucks are mounted on a highway-ready chassis, eliminating the need for separate equipment to transport them. Both telescoping and articulating boom models are often available. Whereas telescoping booms go straight up, articulating booms can maneuver around tree branches and other obstacles.
Carry deck cranes: Carry deck cranes are generally smaller machines built to maneuver into confined spaces to hoist and carry loads across short distances. Carry deck cranes are typically mounted on a 4WD chassis to provide additional flexibility in rough terrain.
Rough terrain cranes: For serious heavy-duty applications, including picking-and-carrying in mining and other remote sites, rough terrain cranes provide the go-anywhere toughness required to get the job done. Rough terrain cranes often feature rubberized tires and four-wheel steering, and they are usually not suitable for driving long distances on highways.
Our current selection of used crane trucks for sale can be found below. To learn more about any of our units or for assistance sourcing something you can't find online, contact a Truck Site sales representative by phone or email.
Financing Available
When it comes to your fleet, an investment in a used crane truck is one that can allow you to take on bigger jobs, be more productive and otherwise position yourself for sustainable growth. For many businesses, however, obtaining the financing necessary to make a purchase can be a major hurdle.
At Truck Site, we work with you to find solutions to all of your financing needs. Our customers include both growing and established businesses, as well as government agencies and contractors. We understand that each of these organizations has unique needs, which is why we offer flexible financing plans that allow you to purchase the best equipment for the job.
Submit your application online today and get a response in 24 hours or less. For more information about your options, contact our office directly.
Show more
Crane Trucks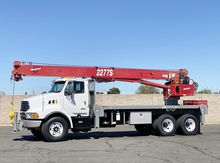 Cranes