Used Digger / Drill Trucks for Sale
---
Digger Derrick trucks serve a wide range of purposes and are an invaluable asset to the fleets of construction, utility, telecommunications and environmental/geotechnical contractors. At Truck Site, we have a large inventory of used drill trucks for sale and can match you with the best machine for your purposes. If you've been considering purchasing a drill rig, save money by buying used. Follow the links on this page for more information about individual machines or contact our office directly for information and assistance.
New or Used?
Many fleet operators think the only way to guarantee a level of quality when purchasing a drill rig is to buy new. For contractors on a budget, however, this simply isn't realistic — the high cost of buying new often means having to settle for an underpowered machine, or one that doesn't contain the best feature set. By buying a used drill rig, however, you avoid the initial depreciation, which can save you up to 20%. That means your dollar goes further, and you can purchase a higher quality rig than you could otherwise afford.
Of course, buying used only benefits you when you know you are getting a reliable, rust-free machine. At Truck Site, our inventory of used digger trucks for sale has been sourced from state and municipal government fleets. All are in excellent condition for their age and have been meticulously maintained throughout their operational life.
We are a family-owned business with a global reach, and we can arrange shipping of your purchase to anywhere in the world. Shop the best selection of used drill trucks for sale online by following the links below.
Show more
Digger / Drill Trucks - Digger Derricks

More Details
Digger / Drill Trucks - Drill Rigs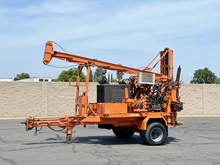 Used Bodies / Parts - Digger Derrick Bodies

More Details